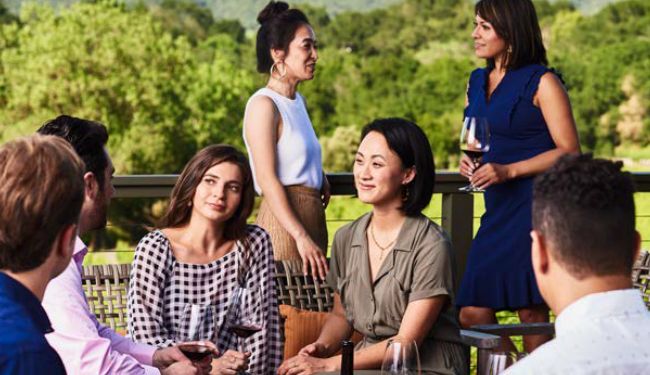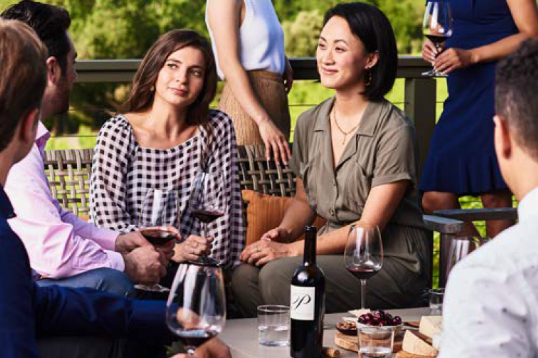 Preferred Partner
SONOMA COUNTY
Just 30 miles north of San Francisco, Sonoma County is one of California's top food, and wine destinations, home to more than 425 wineries ranging from rustic to regal. Hike among towering redwoods, cruise along rugged Pacific coastline, get to know inviting small towns, or just sit back and take it all in. Visitors have the option to fly directly from certain airports into the Charles M. Schulz Sonoma County Airport located in Santa Rosa. In addition, Sonoma County is less than a two-hour drive from three international airports: San Francisco, Oakland, and Sacramento.
Destination Activities
Wine tasting at 425+ wineries,
Sonoma County Tasting Pass
500+ restaurants
40 spas and wellness centers
18 golf courses open to the public
120 small farms and 12 farm markets
Armstrong Redwoods State Reserve
Green Music Center
Sonoma Raceway
Safari West Wildlife Preserve
Pacific Coast Air Museum
Luther Burbank Center for the Arts
27 California State Historical Landmarks
11 California State Parks
53 regional parks
20 coastal beaches
Destination Facts
Sonoma County has 18 American Viticultural Areas (AVAs, or appellations) in Sonoma County – regions with unique soils and climates that allow certain grape varieties to grow particularly well. Sonoma County is the most diverse premium wine grape growing region in the United States.

• 6,600 hotel rooms with on-site meeting space
• More than 425 wineries and 55 miles of coastline
• More than 60 regional and state parks
• 500-plus eateries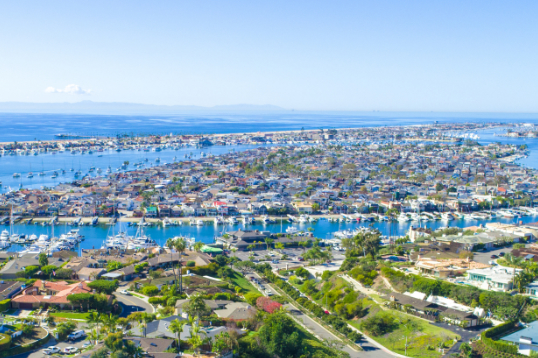 Preferred Partner
VISIT NEWPORT BEACH
Stretching 10 miles along the Pacific, their chic coastal community with year-round mild temperatures is filled with natural beauty. Award-winning golden sand beaches, protected wetlands, a three-mile-long harbor, and miles of green hiking trails provide a stunning setting for group adventures. With plenty of flexible indoor/outdoor meeting spaces and endless opportunities for outdoor activities, Newport Beach is the right fit for a safe and fun group experience.
Off-Site Venues
Charter a yacht, savor a candlelit dinner in a wine cave, host a large-scale party in a waterfront ballroom, or on the sand, sip cocktails amidst vintage aircraft. Newport Beach inspires meetings well beyond the ordinary.
Newport Dunes Waterfront Resort & Marina
• Capacity: 50 TO 2,500
• 50,000 square feet of flexible indoor and outdoor waterfront space
• All events overlook the bay; choose from cabanas, pavilions, marina terrace, gazebo, and gardens
City Cruises
• Capacity: 20 TO 550
• Seven luxury private yachts
• Exceptional service, fine cuisine, and spectacular views
• Half-and full-day corporate meeting packages available
Lyon Air Museum
• Capacity: 50 TO 350
• Situated on John Wayne Airport, Orange County, with breathtaking views of the runway
• 30,000 square feet hangar enclosed museum hosts seven vintage aircraft along with various military and civilian vehicles
Adventures by the Sea
Sunset Harbor Cruises delivers the goods in style at Hornblower Cruises and Events. Relax aboard a luxurious yacht and enjoy champagne, a delectable meal, and music and dancing on the water and under the stars. During daylight hours, grab a pair of binoculars to scan for whales, dolphins, and other sea creatures frolicking alongside a whale-watching boat captained by Newport Landing Whale Watching.
See all the beauty and action along the coast and get in your workout, too. Put on your sunscreen, sunglasses and hat and get onto the water on a canoe, kayak, or paddleboard, which you can rent at several venues, including Newport Dunes Waterfront Resort & Marina, Newport Aquatic Center, and Pirate Coast Paddle.

Preferred Partner
VISIT LOS CABOS
There are many reasons why Los Cabos is considered one of the world's top business convention destinations for connections and inspiration. The most robust set of guidelines and standards for health and safety to guarantee your events wellbeing. State-of-the-art infrastructure, hotels offering more than 29,000 square feet of meeting space all add up to the premier package for hosting events of all sizes.
Have you been searching for a team building program that will excite & delight?  Our GC Team recently explored the adventures of Los Cabos.  Amy Durocher, Sr. Director, Global Accounts shares her experience. "I was so impressed with the fun and creativity our team experienced while in Los Cabos.  Whether it was competing against each other in a game of archery, or enjoying the beautiful ocean on stand-up paddle boards during our boat tour, we were able to connect with one another in a way you just can't do in the office or over a virtual call!" – Amy
At a Glance
• Main luxury brands have hotels in Los Cabos
• Small and medium hotels with 220 rooms average
• Close to main markets within 3 hours of 26 main cities in the US
• 350 sunny days with an average of 10 days of rain a year!  Ideal for outdoor events
• Outdoor activities (Sea of Cortés, Desert, Mountain)
Group Activities
A wide variety of group activities await the most comprehensive set of health and safety guidelines to give you and all the travelers of your group the satisfaction that they are taken care of to the highest standards available worldwide.
Catamaran and Boat Tours
Boat tours are the ideal way to immerse yourself in the aquatic side of Los Cabos. Many outfitters rent charter boats for full day and half-day excursions, while other companies offer sunset cruise, dinner and show packages. Consider hopping aboard a stable and comfortable catamaran for a day of activity, renting a private yacht for an exclusive experience, or taking a dinner cruise around El Arco.
Kayaking and Paddleboarding
One of the most natural ways to explore Los Cabos' waters is via stand-up paddleboarding (SUP) or kayaking. Most operators can organize a tour with each paddleboard or kayak rental to the protected coves and serene waters of Chileno Bay, Santa Maria Bay and Lovers Beach. As the approach is usually silent via kayak or paddleboard, it is easier not to startle wildlife in its natural habitat. As you paddle, you can come near sea lions, sea birds, dolphins, or even a whale when the season is right.
Whale Watching
Whale watching off the Los Cabos shores is glorious, as the gentle giants can be found in impressive numbers all along the coast. The best time to observe them is during their seasonal migration to the nutrient-rich waters off Alaska from December through April. During the season, charters run tours to the migratory grounds with a variety of boats. You may find yourself on a wide, comfortable catamaran or a Tony yacht, seeing pods of gray and humpback whales frolicking and spouting about with their young.
Fun Fact
Los Cabos earned The World Travel & Tourism Council's (WTTC) stamp of approval for its newly designed "Safe Travels" badge qualified by WTTC's standardized health and hygiene protocols across the destination.

---
Contact your GC Account Executive or email us at [email protected] to plan your next meeting or event!