---
Hilton is an industry leader with 6,100 hotels across 119 countries and territories and 18 distinct brands. Driven to deliver an exceptional experience to every guest, every time, Hilton brings original programs, best-in-class services and a team devoted to the light and warmth of hospitality. Explore:
• Hilton Honors, our award-winning loyalty program, offering free Wi-Fi,
Digital Check-In and Digital Key.
• Travel with Purpose, our global hospitality mission to strengthen communities
and protect the environment.
• Meet with Purpose, offering healthy menus, wellness activities and philanthropic
programs, packaged to invigorate the meeting experience and WOW attendees.
Special Offer: Receive special benefits when you book a meeting or event at participating Hilton Hotels & Resorts in Europe. Must book by 31DEC20 and completed by 31DEC21. Contact your GC Account Executive or email us at info@globalcynergies.com for more details.
Learn a bit more about three of our key meetings properties:

HILTON MUNICH CITY
The Hilton Munich City is conveniently located next door to the Rosenheimer Platz S-Bahn train station which connects to Munich International Airport, Marienplatz and Nyphemburg Palace. The hotel can host events up to 350 attendees in the modern conference area. For a successful convention you can choose between seven multi-purpose rooms, one boardroom and the ballroom with separate foyer.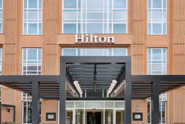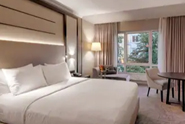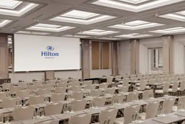 Hotel Stats:
• 483 modern and contemporary rooms and suites
• Modern downtown Munich hotel walking distance to major attractions
• Meeting space for up to 350; 9 flexible venues
Interesting Fact: Hilton Munich City earned Germany's Leading City Hotel 2019 at the World Travel Awards.

HILTON MUNICH PARK
Located on the city`s famous English Garden park, Hilton Munich Park is a peaceful retreat with a modern conference centre of 21 rooms, ready to offer various, unconventional set-ups to make every event memorable and unique.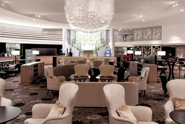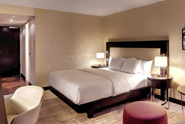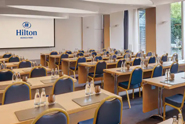 • 484 spacious and bright guestrooms
• 21 meeting rooms and a ballroom for over 1000 attendees
• Situated on the edge of Munich's famous Englischer Garten public park,
Hilton Munich Park is only a 30-minute drive from Munich's Franz-Josef Strauss
airport and within easy reach of all of the city's major businesses
and attractions.

Interesting Fact: The hotel can host meetings for up to 1,000 attendees in theatre style and has the ability to easily bring cars into the space for launches or presentations.

ROME CAVALIERI, A WALDORF ASTORIA HOTEL
Perched on 15-acres of Mediterranean private parkland overlooking the Eternal City and the Vatican, the Rome Cavalieri, part of Waldorf Astoria Hotels & Resorts, offers 345 spacious guestrooms, 25 luxurious Suites, and meeting space for up to 5,500 delegates. Enjoy exclusive access to the Imperial Club, dine in La Pergola, the only 3-star Michelin restaurant in Rome, peruse the world's most prestigious art collection housed within a hotel, or relax in the 2500 square meter prestigious Grand Spa Club. This luxury hotel is a calm retreat in the heart of the Eternal City and brings new meaning to notions of Italian style as well as new purpose to the fine art of exclusive hospitality.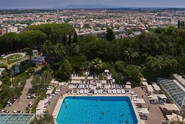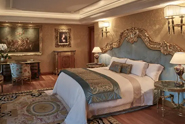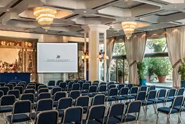 • 345 spacious guestrooms
• Offering flexible venues with more than 93,650 square feet of meeting
and conference space

Interesting Fact: Rome Cavalieri offers the La Pergola, Rome's ultimate restaurant, and has three Michelin® stars to prove it. Under the direction of the celebrated Chef Heinz Beck, the famous menu is accentuated with a wine list that comes from a cellar with over 70,000 world-class bottles, a water list featuring 45 choices, authentic Italian oil and balsamic vinegar from the best local producers and the finest Mediterranean-sourced produce.
---
Contact your GC Account Executive or email us at
info@globalcynergies.com
to plan your next meeting or event at one of these amazing brands!