---
Standing tall on world-renowned Orchard Road is Mandarin Orchard Singapore, an icon of world-class Asian hospitality for close to 50 years.
The 1,077-key hotel boasts over 30,000 square feet of prime event spaces backed by the dedicated service of Meeting and Event Specialists. Delegates can look forward to an exciting line-up of food and beverage outlets that include Michelin-rated Shisen Hanten by Chen Kentaro.
For those seeking bespoke business amenities, Mandarin Orchard Singapore offers guests exclusive access to a host of preferential privileges—from detailed attention and personalised service by Meritus Ambassadors, to elegantly prepared all-day refreshments by a dedicated culinary team. Other facilities include an outdoor swimming pool, a fitness centre, a tennis court, and a medical clinic.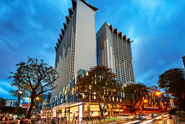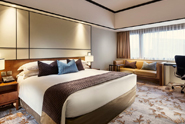 Hotel Stats:
• 1,077 guest rooms and suites
• Over 30,000 square feet of prime event spaces including an elegant,
spacious column-free Grand Mandarin Ballroom that accommodates up to
1,200 guests
• 5 dining outlets including a Japanese-inspired international buffet,
Triple Three; Chatterbox, home to the legendary Mandarin Chicken Rice;
and Michelin-rated Shisen Hanten by Chen Kentaro
Interesting Facts:
• Best City Hotel – Singapore Annual TTG Travel Awards 2010, 2013, 2014, 2015,
2016, 2017, 2018
• Two Stars – Shisen Hanten by Chen Kentaro The Michelin Guide Singapore 2016,
2017, 2018
• Hall of Fame – Heritage Brand (Chatterbox) Singapore Prestige Brand Award
2012, 2013, 2014, 2015, 2016
• Best Upscale Hotel – Asia Pacific Travel Weekly Asia Readers' Choice Awards
2017 & 2018
• TripAdvisor Certificate of Excellence 2016, 2017, 2018
Special Offer:
From now to 30 November 2019, book your meeting package at Mandarin Orchard Singapore and enjoy the following privileges:
• Book a minimum of 20 rooms on peak | Receive 3% off total bill +
choice of one perk
• Book a minimum of 40 rooms on peak | Receive 4% off total bill +
choice of two perks
• Book a minimum of 60 rooms on peak | Receive 5% off total bill +
choice of three perks
Choice of perks:
• 20% off rental for audio visual equipment
• One room night for every 20 room nights booked
• One upgrade to Meritus Club room for every 20 rooms nights booked
• One meeting package for every 20 delegates confirmed
• One-hour welcome reception added to a meeting/dinner package booked
• Unlimited high-speed Wi-Fi access for all guest rooms and meeting rooms
Consume by 31 March 2020


---
Set against the backdrop of the Wasatch Mountains with striking mountain craftsman-style architecture, winter at the Montage Deer Valley features an unparalleled ski-in ski-out and winter experiences with amenities of a world class destination resort.
The spring, summer and fall seasons offer a wide variety of year-round activities for every age group and interest. The vibrant and historic town of Park City is just 9 minutes away from the resort offering shopping, dining, cultural events and year-round festivals.
The Montage Deer Valley offers over 60,000-square-feet of indoor and outdoor meeting space that reflects the grandeur of Empire Mountain, transforming every business function into an innovative gathering. Inspiring outdoor venues at Montage Deer Valley include the 20,000 square foot Grand Lawn with spectacular valley views; the 4,800 square foot Resort Lawn set amidst the stunning backdrop of Empire Mountain; the 5,200 square foot Grand Terrace located just off the Grand Ballroom.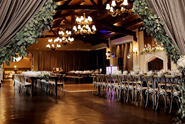 Hotel Stats:
• 220 guest rooms, suites and residences
• 36 miles from Salt Lake City Intl. Airport
• Over 60,000 square feet of event space
Interesting Fact: The Montage Deer Valley Canine Ambassador program—the only one of its kind in Utah—began before the property opened in 2010. An employee suggested that guests might feel more at home at the hotel if they had a resident pooch to pet and play with. Bernese mountain dogs were an obvious choice, both in terms of temperament and their affinity for the Montage's lofty locale. Monty lives with a manager who works at the resort. Monty reports for duty five days a week, his "work" involves posing with guests and receiving hugs, pats, and the occasional ear tug or tail pull from young guests.

Special Offer: Enjoy special concessions when you book your 2019 meeting or holiday celebration at Montage Deer Valley. This promotion is for groups that operate before December 31, 2019. Click on image to view.



---
Tivoli Avenida Liberdade Lisbon, a hotel characteristic of the 1930's, underwent a six-month renovation which was completed in April 2017. The number of rooms was reduced from 306 to 286 to allow for more space and comfort. The renovation also included the lobby, new restaurant concepts, the Sky Bar, a panoramic view restaurant, a health club and the opening of Tivoli Spa.
Standard Wi-Fi is included at this hotel and for an extra special touch, you can opt for the Palacete Tivoli Lisboa meeting space located next to the swimming pool. This is a multi-purpose and multi-functional space which has been completely rebuilt and improved; it can be adapted to cater for a wide variety of events, from private parties to the most demanding of meetings. You can also count on an experienced support team who will provide you with everything you need, down to the smallest detail.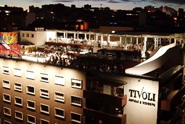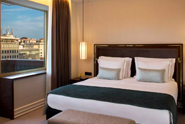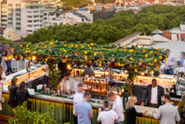 Hotel Stats:
• 286 guest rooms
• 18 meeting rooms offering 16,000 square feet (approximately 1,600
square meters) of space
Interesting Fact: Lisbon's favourite rooftop bar has been renovated and is reopening its doors with a new concept to make sure you have unforgettable experiences. Now a natural extension of the Restaurant SEEN Lisboa, the new Sky Bar by SEEN promises exciting late afternoons and evenings with its cosmopolitan, lively, glamorous and sophisticated atmosphere.


---
Tivoli Marina Vilamoura is in a unique location in Portugal with 383 newly refurbished guestrooms and views over the Atlantic Ocean and Vilamoura Marina. The hotel has a new beach restaurant and pool area which is available for private functions and the new congress center at Tivoli Marina Vilamoura is amazing.
The ground floor has two meeting rooms each with 340 square meters of space and 16 breakout rooms with 45 square meters of space or 8 breakouts with 85 square meters of space and a ceiling height of 4.80 meters. The first floor is 10 meters high with approximately 2,300 square meters of space and the largest meeting room can be divided into 6 meeting rooms. Additionally, there is a rooftop terrace with approximately 1,800 square meters of space, 400 of which is covered in order to serve coffee breaks and meals.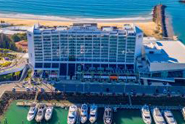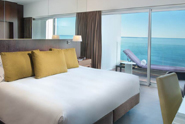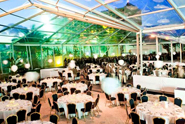 Hotel Stats:
• 383 newly refurbished guestrooms and views over the Atlantic Ocean
and Vilamoura Marina
• Featuring 122,461 square feet (approximately 12,000 square meters)
of flexible meeting and event space
Interesting Fact: The new Algarve Congress Center is comprised of 22 rooms filled with natural light, spread over a total area of 7,050 square meters, with a total capacity for up to 3,000 people, 10-metre-high ceiling and divisible into up to six individual rooms, plus a 700-square-metre terrace with 180-degree views over the Vilamoura Marina and the Atlantic Ocean.
Special Offer: For your next event in southern Portugal, choose two of your favorite offers and benefit from the world-class facilities of Centro de Congressos do Algarve in its first anniversary:
• Welcome cocktail overlooking the ocean or the marina
• 20% discount on the meeting room rental at Centro de Congressos
do Algarve
• DJ for Gala Dinner for a minimum of 300 people
• One complimentary activity for the group, morning Yoga,
Tai-Chi or Recharge
• One complimentary room for each 30 booked rooms (maximum of
4 rooms per night)
• Complimentary room upgrade for 10% of your booked hotel rooms
CONDITIONS: This offer is applicable for new group bookings made before 15NOV19, for events taking place until 31APR20 and between 01NOV20 and 31APR21. The event must include the meeting room space and a minimum of 50 rooms for 2 nights. This offer is subject to availability and blackout dates.
OFFERS CONDITIONS:
– Two offers may be chosen per confirmed booking;
– The welcome cocktail includes one signature cocktail per person from the
hotel's selection;
– The upgrade for 10% of the hotel rooms booked is for the next level
room type and subject to availability at the time of booking
– The complimentary activity is a one hour class in the hotel gardens
and/or terraces;
– The discount on meeting room rental is based on the meeting room rack rate


---
There are few adventures more thrilling than sailing aboard a tall ship on ocean waters. Anyone who's experienced it can tell you there's this moment when you feel the wind catching the sails just so and suddenly, you're flying. The powerful sensation of being one with nature takes over and leaves you exhilarated, humbled and awed all at once.
Star Clippers meets a variety of group and charter program needs, offering exquisite itineraries throughout the Mediterranean, deep in the Caribbean and up close and personal in the exotic and mystical destinations of Thailand, Singapore and Indonesia. There are three specially built ships in the fleet today: two accommodating 170 guests/85 cabins, one accommodating 227 guests/114 cabins.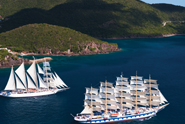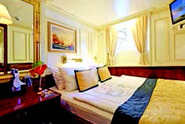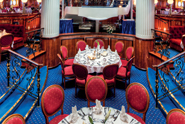 Interesting Fact:
Star Clippers has been named Top Cruise Line in Asia and Top Cruise Line in the Eastern Mediterranean in the fourth annual Cruisers' Choice Destination Awards.
---
Contact your GC Account Executive or email us at
info@globalcynergies.com
to plan your next meeting or event at one of these amazing properties and take advantage of their special offers!