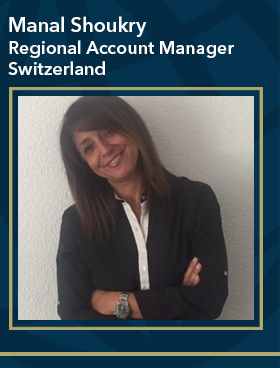 TEAM MEMBER SPOTLIGHT
---
ASKED & ANSWEREDYou have several years of sales experience, what made you decide to choose the hospitality industry and what attracted you to Global Cynergies?
I was always attracted to the world of hospitality and event organization, and after working many years in technical product sales and services across different industries, I found that GC was a great opportunity to combine my personal interest together with my sales experience. It was the perfect timing for me to realize my dream and become an entrepreneur.
You recently organized a client event in Lausanne and are now working on another one in Italy – what advice do you have for other team members that may want to put together a client event? Client events are a great marketing tool for both GC and the hotel. It is an excellent networking opportunity to present and better explain our services and at the same time the hotel finds it interesting as it gives them the chance to show off their property. It is important to choose hotels that will appeal to potential clients (destination basis) and feature something new. Diversifying the list of invited companies, covering multiple industry sectors, is equally important.
SPECIAL INTEREST
---
You speak 5 different languages, that's quite an accomplishment. What motivated you to become fluent in these languages?
I have travelled a lot and lived in many countries which motivated me to learn new languages in order to integrate with the locals and understand their cultures.
TESTIMONIAL:
"Joining Global Cynergies has given me the independence and flexibility to plan my day and balance my personal life with my work life. This balance was very important to me as I could not stop working but I also wanted to spend more time with my teenage children. Working for Global Cynergies has been, and still is, an amazing experience. It is a collaborative organization backed by an exceptional headquarters management team and magnificent and extremely helpful colleagues."