---
Set against a spectacular New York City backdrop and in the heart of Times Square, the Millennium Broadway features higher floors that offer breathtaking views of the Chrysler Building, Empire State Building and the glittering light show of Times Square. Located in the lobby, Bugis Street Brasserie and Bar infuses flavors from the archipelago with Singaporean, Chinese and Malaysian specialties.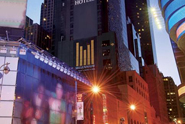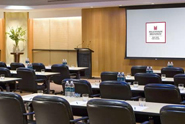 Hotel Stats:
• 626 spacious and tasteful rooms with oversized bathrooms and
thoughtful amenities.
• 52,000 square feet of event space, each one of the 43 Midtown meeting rooms
is equipped with T1 lines, Wi-Fi, ergonomic chairs and furnishings,
Internet kiosks, multi-zone lighting and non-glare tables, as well as
free-flow refreshments.
Interesting Fact: The legend of the Hudson Theatre begins with Henry B. Harris, a St. Louis-born Producer. Born into a theatre family, Mr. Harris quickly became established in the business, managing his own stars and producing his own plays by his mid-thirties. In 1900, he decided to take his talents to New York and, needing a permanent home for the actors under his management, funded the building of the Hudson Theatre.
Unfortunately, Mr. Harris did not live long enough to fully enjoy his successes. While returning from a trip to England with his wife, Irene, the grand ship on which the couple was traveling struck an iceberg and sank to the ocean floor. That date was April 15, 1912, and that ship, of course, was the RMS Titanic. Mrs. Harris escaped with her life; Mr. Harris did not.


---
The Clift Royal Sonesta Hotel San Francisco is conveniently located in the heart of San Francisco's Theater District; just two blocks from Union Square, buzzing with the energy of the Bay Area's boldest trends and brightest entrepreneurs.
Designed by Philippe Starck, The Clift, features a soaring lobby with one of the most eclectic furniture collections in all of California, including chairs from Ray and Charles Eames, furniture by Salvador Dali, and a surreal stool by Roberto Matta (inspired by René Margritte).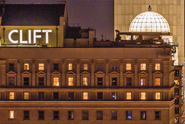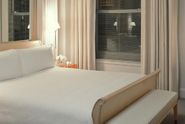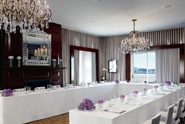 Hotel Stats:
• 372 guest rooms, all equipped with high-speed internet access, have been a
hallmark of San Francisco hospitality for 100 years.
• Book board meetings, cocktail receptions, or private parties in more than
10,000 square feet of flexible meeting space accommodating groups of up to
350 people.
Interesting Fact: The Clift Royal Sonesta Hotel hosts 10 hives with over 10,000 honeybees on the roof of the hotel.
---
Contact your GC Account Executive or email us at
info@globalcynergies.com
to plan your next meeting or event at one of these amazing properties!