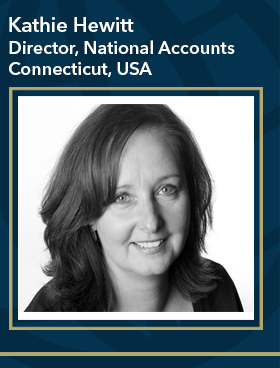 TEAM MEMBER SPOTLIGHT
---
ASKED & ANSWEREDYou recently joined GC this year, can you describe your experience thus far?
I have been in sales and sales management my entire career. While I have had some amazing experiences including at CNN in NYC where I had memorable sales calls with Ted Turner and managing global photo shoots for Starwood brands , I have to say Global Cynergies is by far the healthiest culture I have experienced.
I made a promise to myself when I left my last sales position in the hotel business, that I would never work for an unhealthy culture again. From my first conversation with Pat almost a year ago followed by an amazing on boarding experience with the AZ team, I quickly realized I found my happy place. My momentum to persevere is fueled everyday by being independent, feeling reassured that I always have the support I need from HQ and my GC family around the world, knowing that my integrity is protected and I can deliver on my promise to my clients and that Global Cynergies and my values are one.


Congratulations on being recognized for the 2018 Newbie of the Year award in Sitges – what did you focus on this year that you think helped you win this award? Picking up the phone and having a conversation with the right people. I find that most people are interested in the services we offer even if the timing may not be perfect for them. Having luxury hotel group sales experience combined with all my business development roles pursuing Fortune 500 companies made the transition to Global Cynergies flow easily for me. But, I am not saying it is easy to build your business. It's hard work. It takes commitment, determination and the ability to shrug off the few negative experiences with unwilling prospects along the way and a commitment to giving the clients you do win, a 5 star experience. The payback is independence, learning about the world through all the resources on GC Connections, destination education through GC meetings in relevant destinations and industry events, having a global network of GC colleagues who become friends, and building a successful business one meeting at a time while loving what you do!



SPECIAL INTEREST
---
Is there a place you always wanted to visit or experience? I always say just put me on a plane and I'll go most anywhere. At the top of my list though — By continent — Vietnam, Japan, Singapore, Australia/New Zealand, I love Mexico, love Vancouver and Montreal, and wouldn't mind hanging out in Tuscany for a few months. My husband and I would be delighted to get out of winter in CT at some point and maybe move to Mexico, or somewhere interesting and warm.


TESTIMONIAL:
"It's not for everyone, but if you work hard, have faith and have the ability to connect and have comfortable conversations with prospects and you love this business…hang in there…it will happen. I'm not there yet myself, but I am very motivated by my progress and am enthusiastic about my future with Global Cynergies. "