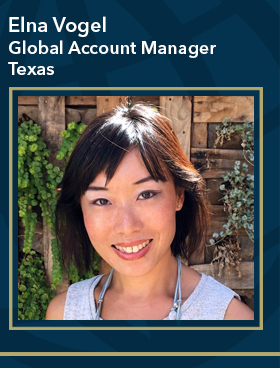 TEAM MEMBER SPOTLIGHT
---
ASKED & ANSWEREDWhat is your favorite thing about the opportunity with GC?
GC offers me a work-life balance and having more time for my family, especially with a new born baby and a young child. It allows me to work with less stress, avoid a long commute and having more freedom with where and when I work. High quality child care in the US is very expensive and GC gives me the opportunity to pursue a career while fulfilling a mother's duty at the same time.
2. How do you manage your work and home life? It's never easy being a mom trying to juggle a job with a family life so prioritizing my time is key. I use the morning time for high-concentration tasks or making as many phone calls as possible, while my older son is in school and my younger son is taking a nap. In the evening I split my time half for work, half for personal "me" time. It is important to remain flexible and not feel guilty when you haven't completed your "to do" list!
SPECIAL INTEREST
---
What are some of your hobbies or activities you like to do?
I like to make the most of my weekends; we love hiking, exploring new parks and museums, visiting the zoo, and occassionally a weekend road trip to explore nearby cities. If I have free time on my own, I love to paint as well.
TESTIMONIAL:
"I was an event planner for more than 17 years prior moving to the United States four years ago, it was not easy to give up my career and be a stay at home mom. GC gives me the opportunity to work at my own pace while catching up with the market trends and meeting with great people along the way. Working at GC is like working in a big family with great support for each other."