From Napa Valley to the French countryside of Chantilly, our awe-inspiring locations provide imaginative environments for guests to connect, create, and discover. State-of-the-art meeting spaces with advanced technology paired with our sophisticated food and beverage program, offer an ideal combination for stimulating creativity. Award-winning golf courses, rejuvenating spas, and close proximity to the world's most famous wineries draw guests for meetings, celebrations, and memory-making getaways.
As the unequivocal leader in meetings and group accommodations, we can help plan the perfect meeting down to the last detail. From providing the space and time for groups to accomplish big things, to offering wholesome nourishment for the mind and body, you can rely on our expertise to make your event seamless and productive.
Inspirational environments that bring people together. Innovative meeting experiences that foster big ideas. Unique destinations and activities that nourish body, mind, and spirit. Since our inception in 1981, thinkers and doers have gathered at Dolce to learn, discover, and create lasting memories.
Dolce's 21 hotels are home to more than 600,000 square feet -more than 13 American football fields of meeting space. Dolce hosts nearly 100,000 events welcoming four million meeting clients each year. In addition to state-of-the-art meeting rooms, nourishment hubs offering local cuisine, and breathtaking vistas, Dolce has cornered the market on nontraditional teambuilding experiences that educate, connect and inspire guests -with options like bicycle building, 'concoctioneering,' beekeeping and reforestation.

Travel is the best excuse to enjoy the grand things in life, and Wyndham Grand Hotels and Resorts offer truly unforgettable travel experiences. A leader in guest reviews with an average rating of 4.28 versus the competition's 4.15, Wyndham Grand is decidedly not pretentious, but approachable by design featuring pristine guestrooms, relaxing spas, one-of-a kind dining experiences, and more.

Located in some of the world's most sought after destinations, including Shanghai, Istanbul, Doha, Salzburg, Chicago and Orlando, local culture and style are infused into our hotels, creating distinct environments for remarkable travel experiences.
Whether you're planning an intimate party or a large-scale conference, with more than 290,000 square feet of flexible meeting space across 45 hotels we can easily accommodate both business and social functions. Our expert team of event planners will coordinate every detail—from custom catering to state-of-the-art technology—to ensure your gathering is a resounding success.
Every stay begins with a warm welcome at check-in. Enjoy our sophisticated guest rooms, each inspired by their unique location and thoughtfully appointed with plush WynRest® bedding, premium bath products, and modern conveniences. Throughout our hotels and resorts, you'll find beautiful pools, rejuvenating spas, and exceptional restaurants to make your getaway memorable.



GC Special Offer
---


Sophisticated accommodations in an extraordinary oceanfront setting. A stay at this distinctive resort is an unsurpassed experience with a bounty of upscale amenities, including a full-service spa, an outdoor pool and whirlpool spa, a 24/7 fitness center, and multiple dining options.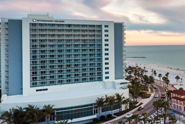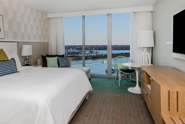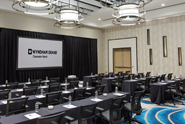 Hotel Stats:
• All 343 beautifully designed rooms feature a spectacular view of the water or
nearby marina.
• The hotel has 12 event rooms which offer 22,000 square feet of event space,
ideal for impactful meeting and events. The largest event room is 10,632
square feet.
Fun Fact: Bathed in golden sunshine, the incredible resort is just steps from stunning Clearwater Beach, recently named America's Best Beach by TripAdvisor.


Experience sophisticated charm and Mediterranean-inspired comfort while exploring the world's most renowned theme parks, championship golf courses, and exciting attractions, just minutes away. Located within the Walt Disney World® gates and surrounded by 500 pristine acres of woodlands, the idyllic AAA Four-Diamond-rated resort offers upscale amenities, stellar service, and distinctive dining in a unique lakeside setting.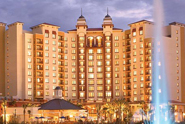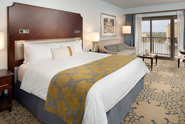 Hotel Stats:
• 400 guest rooms and suites.
• 32,000 square feet of event space, the largest room is 8,000 square feet.
Fun Fact: In 2016, the Wyndham Grand Orlando added approximately 6,000 square feet of meeting space – the 3,500 square foot Bonnet Creek Ballroom and the 2,115 square foot Expedition Room.


Well-designed accommodations and amazing kid-friendly amenities in a convenient lakeside location. As an official Walt Disney World® Hotel, we aim to be as impressive as the theme parks around us. Located directly across the street from Disney Springs™, our lush lakeside resort features two pools, a Jacuzzi, and an aquatic playground for kids. Play a game of basketball, volleyball, or tennis on the onsite courts, or work out in the 24/7 fitness center. Tour-caliber golf courses are nearby. Four dining options, plus room service provide delicious fare for everyone.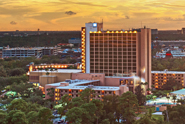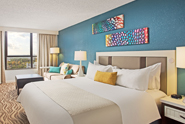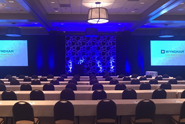 Hotel Stats:
• 232 spacious guest rooms in this 19-story resort include free WiFi,
refrigerators, and plush bedding.
• 19,000 square feet of flexible space including the 12,000 square foot
Horizons Ballroom.
Fun Fact: Our guests can enjoy attractions at select parks before or after hours with Extra Magic Hours. Don't miss the breakfast buffets with your favorite Disney® characters.


With a prime location just steps from world-famous attractions, exciting dining and fabulous shopping, Wyndham Orlando Resort International Drive is at the center of it all. Whether you are looking for a place to be productive on business, or a place for your family to stretch out and make memories, the hotel features smart accommodations designed for comfort.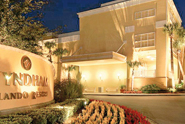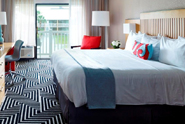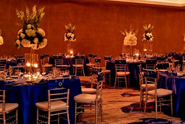 Hotel Stats:
• 613 recently renovated guestrooms.
• 60,000 + square feet of flexible event space, including 34 function rooms to
accommodate everything from a small meeting to a large conference or
tradeshow. From our 18,480-square-foot Palms Ballroom with airy 25-foot
ceilings to our 14,000 square feet of outdoor pre-function space
(outdoor veranda, grand lawn), our Orlando convention hotel has flexible
options to suit your needs.
Fun Fact: Complimentary shuttle to Universal Studios, Islands of Adventure and SeaWorld Orlando theme parks. The Coca-Cola Orlando Eye, offering breathtaking, 360-degree views of Central Florida, is a short walk away.


Wyndham Hamilton Park Hotel and Conference Center, near to Newark Airport, is a technology driven learning environment with well appointed amenities, guest rooms, and premier meeting facilities. Unwind at the hotel, catch a workout in our state-of-the-art fitness center, and enjoy a dip in our indoor or outdoor heated pools. After your meetings finish you can relax your body, de-stress your mind, and soothe your soul.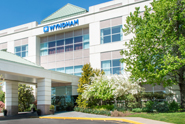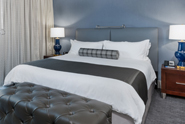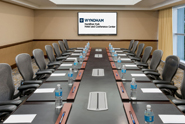 Hotel Stats:
• 219 guestrooms and suites.
• 40 multi-functional meeting rooms totaling 32,000 square foot of flexible
event space. The Loft, a private floor perfect for secluded, quiet meetings,
can accommodate one or more groups with multiple breakout rooms.
The Gallery is a stunning ballroom that can accommodate up to 300 for a
sit-down, gourmet banquet. The largest event room is 4,680 square foot.
Fun Fact: There is a seasonal temperature controlled pavilion event room. The hotel is a relaxing, rural getaway convenient to the New Jersey Performing Arts Center and a direct train ride to New York.


Built in 1929, this Art Deco landmark is across the street from Penn Station and less than a mile from both the Empire State Building and the High Line. Our Midtown West location puts you in the heart of Manhattan, steps from Times Square, the Javits Center, and innumerable attractions.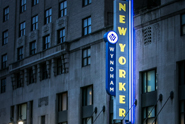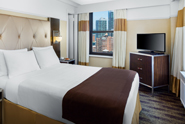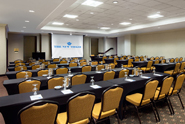 Hotel Stats:
• Offering 1,050 guest rooms and 72 suites. Enjoy views of the Hudson River or
Empire State Building in select rooms and suites, and private balconies with
panoramic views in others.
• 7 event rooms and 23,000 square feet of space can host seminars,
receptions, executive meetings, and more. The largest event
room is the 10,000 square feet Grand Ballroom that can seat
600 guests.
Fun Fact: Enjoy sweeping views of the Empire State Building and Statue of Liberty from the 39th floor Sky Lounge.


A modern hotel in the heart of historic Old City and steps from Philadelphia's downtown center. Just one block off Market Street and within walking distance of popular landmarks, including Independence National Park, Liberty Bell Center, Independence Hall, and the Betsy Ross House. The hotel offers well-designed spaces and thoughtful conveniences to help you make the most of your stay, including free WiFi, a seasonal rooftop pool, a fitness center, and Coin's Restaurant & Pub, our onsite eatery.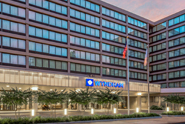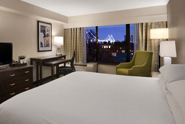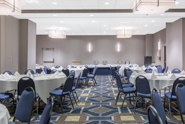 Hotel Stats:
• Our contemporary urban hotel offers 364 beautifully appointed rooms and
four spacious suites.
• With ten meeting rooms totaling 8,000 square feet of space, our hotel is perfect
for hosting business meetings, conferences, and special events for up to
500 people. The largest event room is 4,687 square feet. and seats
240-500 guests.
Fun Fact: Minutes away from the Philadelphia Convention Center, Art Museum, the Barnes Foundation, Franklin Institute, Rittenhouse Square, Penn's Landing, and the Central Business District.


Located directly across from the picturesque San Diego bay and conveniently near downtown, the Wyndham San Diego Bayside hotel in San Diego, is the embodiment of the laid back California attitude. Take a walk down Embarcadero and bask in the world famous "perfect weather", or stroll down to Little Italy for a taste of authentic Italian cuisine in Southern California.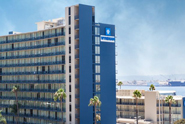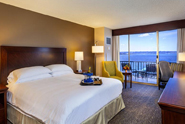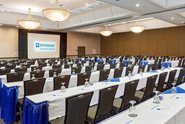 Hotel Stats:
• Offers 600 luxurious guestrooms including 10 suites.
• 15 meetings rooms that include 27,000 square feet of meeting space.
Fun Fact: All guest rooms feature balconies with breathtaking bay or city skyline views.
---
Contact your GC Account Executive or email us at
info@globalcynergies.com
to plan your next meeting or event at one of these amazing properties and take advantage of their special offer!