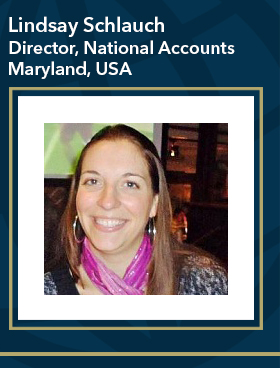 TEAM MEMBER SPOTLIGHT
---
ASKED & ANSWEREDYou will be celebrating your first year with Global Cynergies next month, can you describe your experience so far?
My experience has been amazing thus far! I have been part of the events industry since before I even graduated college and it is one I have not been able to get away from. I was very much in need of a position that would allow a flexible work/life balance – and I knew I did not want to move away from events after all the blood, sweat and tears that have transpired over the years. Global Cynergies has been able to provide me just that. As any planner knows, this industry can be extremely rewarding, but it does not come without its challenges (including many sleepless nights). I feel very fortunate, and love the fact, that I am now able to help make the lives of planners easier when I know exactly what it is like to be in their shoes!
Can you name one of your favorite places you have traveled to? It is entirely too difficult to choose just one! A few of my favorites have been the majestic Lake Bled in Slovenia, the vibrant Hong Kong, and the magnificent Victoria Falls. I have also been lucky enough to visit Hawaii several times throughout my adult life and have always described it as "magical".
Besides the scenery and amazing things to do there, the "aloha spirit" is something that truly resonates with me. I love being in places where the warmth of the locals comes across in every interaction and I have had that experience every time I have been on the Hawaiian Islands. That said, there are many places I have been for which I can say the same. If you can let go of everyday stresses and have an open mind, anywhere you are there are reminders that the world can be such an amazing place!
You attended a few GC Meetings last year can you describe one of your favorite moments you experienced at one of the meetings? Meeting other GC reps from across the country and the globe is usually the major highlight for me. It is such a wonderful group of people. I am always surprised at how easily the group meshes with one another when we come together. I also love that GC puts an emphasis on social responsibility in the locations we are holding meetings. Some of my favorite moments have been contributing to local charities in Germany and The Netherlands and learning about how important our contributions have been to help those in need.


SPECIAL INTEREST
---
I hear you can bake some yummy treats, when did your passion for baking start? I happen to have a mother who has a sweet tooth like you couldn't believe! I started baking cookies with her at a very young age and think it kind of spiraled from there. I now like to try to get creative with designs when I have the time – I most often do this by way of cake pops – although, I still stick to the classics quite often…It doesn't hurt that I'm a sucker for cookie dough and cake batter.

TESTIMONIAL:
" Working for GC has offered me the chance to hold a position in the events industry while maintaining complete control of my life. The flexibility that is possible and the amazing people you meet along the way can't be beat!"