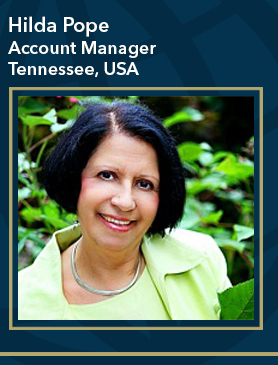 TEAM MEMBER SPOTLIGHT
---
ASKED & ANSWEREDHilda, you recently celebrated your 2nd Year with Global Cynergies, were honored at our 2017 Annual Awards with the "Rock Star" Award, and recognized as the November Top Producer; can you share what your journey has been like this year?
My journey included learning from my colleagues, building trust and relationships, discovering new suppliers globally, and being thankful for the support of everyone at Global Cynergies!
Can you share a few sentences about your career background and why you chose Global Cynergies. I feel blessed, having enjoyed flying for a major international airline, obtaining my culinary degree & having my own business, Event Manager for Governor of TN and moving on to meeting management – a natural progression! After working for another third party, I actually researched and found the best at Global Cynergies!

Since you joined Global Cynergies you have attended several meetings, trade shows, and webinar classes; from your experience how important is it to be connected virtually and physically? With a virtual business, it's quite easy to get comfortable in front of a computer screen, but I choose to be visible as much as I can at meetings, trade shows, webinars and networking opportunities. I enjoy meeting people and love learning, even if I take home one nugget!


SPECIAL INTEREST
---
What are some of your favorite things or traditions? Traveling, reading and cooking, especially Thanksgiving dinner for my family & friends.

TESTIMONIAL:
"You couldn't ask for a better, more supportive company to work for – I am confident in saying that and I don't hesitate to talk about it. It's important to like who you work with and that, in my opinion, leads to success – hang in there, you'll get your turn!"