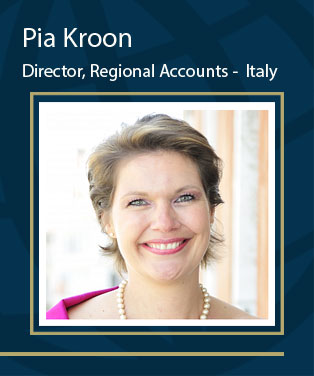 TEAM MEMBER SPOTLIGHT
---
ASKED & ANSWEREDWhat made you decide to join "the other side" after previously working for large hotel brands?
I worked in hotel sales for almost 20 years traveling the world and I thoroughly enjoyed my job. After my second daughter was born, I decided it was time for a change. I wanted to dedicate more time to my family, but still remain within the hotel and events business. With Global Cynergies I am able to do both! First I was selling a hotel, now I am selling the world and applying my knowledge of hotels and contracts to benefit my clients.
What are some of your hobbies? I love to travel! I also like to cook and visit art exhibitions when I have the time.
You are Dutch, working in Italy; can you share some of the nuances of working in a different market? I was born in the Netherlands but have been an Italian "local" for years now. I enjoy working in an international market very much. Some markets are more relationship driven, others are more rational, but in the end, I believe that the key to success is showing a genuine interest for the other person and their needs and earning their trust.
Who do you root for in futbol: Italy or The Netherlands? The Dutch flag is always in hand during the championships!
What do you enjoy the most about your current position with Global Cynergies? I enjoy being able to work all over the world and being part of a global company while still being my own boss.


SPECIAL INTEREST
---
You have two busy girls; how do you manage your time?
As in any other business, you need to plan ahead and organize your work and your family. With Global Cynergies, you have the flexibility to do that; you are able to manage your own time as you see fit. My girls go to school during the day which gives me time to focus on work, but at the same time I am available for them in case they need me. My mother-in-law (a real Italian nonna) is also a great help. Right now, during the summer holidays, I wake up early so I can work in the mornings and still have time to take my girls to the beach in the afternoon.

TESTIMONIAL:
At GC, you have the flexibility to manage your own business while also benefitting from being part of a global company. You have access to a wealth of industry knowledge and solid support enabling you to become a trusted advisor and deliver the best possible service to clients."