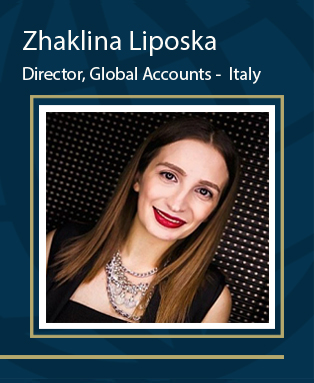 TEAM MEMBER SPOTLIGHT
---
ASKED & ANSWEREDYou recently joined GC, can you describe your experience thus far?
I decided to join GC as I fell in love with the company's culture, the flexibility and its excellent industry reputation – it has been an amazing experience so far! What impresses me is the strong support the HQ team provides and the company's resources and materials posted on the online platforms where we can share opinions, recommendations and experiences anytime, anywhere.
What do you enjoy doing outside of work? I am an art lover. I like to sketch, craft, do calligraphy and paint with oils any chance I get.
What was your impression of the first GC meeting you recently attended? The meeting was a great experience. There were countless opportunities to establish new contacts – plus the opportunity to meet some of my GC colleagues in person.
Of all the cities you have visited or worked in, which one have you enjoyed the most and why? Dubai is one of the most beautiful and vibrant places in the world and I always dreamed of living there. It seemed like the most idyllic destination for someone like me who dreams big. Dubai is a city that will seduce your senses; it entices the adventurer within and welcomes you with open arms to experience multiple cultures at the same time.
SPECIAL INTEREST
---
You spent 6 years in Dubai, what did you enjoy/learn the most from your experience?
I was born and raised in Macedonia and a couple of years ago I went on a vacation to Dubai; I fell in love with the city and decided to move there. I was fortunate to have the opportunity to work on international events for a number of luxury brands where I was able to learn, grow and develop through the projects, positions and responsibilities I held. I met with a number of interesting people from various industries and was able to adapt and grow into increasingly complex roles and environments.

TESTIMONIAL:
Working with GC and experiencing the energy, drive and enthusiasm the team provides globally really inspires me. Being able to work flexible hours, travel and meet interesting people from different parts of the world makes the job worthwhile. No day is ever the same and for me it's that kind of diversity that makes working with GC really enjoyable."