While we note that there are many hotel rooms in the pipeline for North America, very few have meeting space. For years, demand has increased while supply has stayed relatively stagnant, causing space in many destinations to be very tight. As a result, we have been working with our clients to begin the process of planning and securing space much further in advance to ensure they have the right hotel and the necessary space for their meetings and events.




---
The Boston Harbor Hotel, located on the historic Rowes Wharf Harbor, is Boston's only Forbes five star waterfront hotel welcoming guests arriving by land or sea with its inviting ambiance and unparalleled service. The newly renovated guestrooms offering sweeping views of the cityscape or the breathtaking waterfront and the contemporary spa, fitness center, world-class dining and 34-slip marina, make the Boston Harbor Hotel a destination beyond comparison.
Hotel Stats:
• 230 guestrooms and suites
• 15 meeting rooms with 20,000 square feet of space
• Accommodates up to 350 banquet, 150 classroom and 500 reception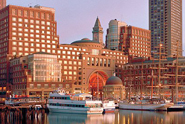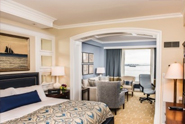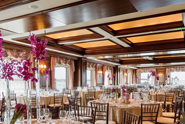 According to Pat Durocher, CEO & Founder of Global Cynergies:
"The hotel is right next to the pier and the indoor meeting space has amazing views of the harbor. There are some great indoor/outdoor areas as well as unique spaces within the hotel that can be utilized. As an independent, I think they would ensure the success of a meeting if it was a good fit."


Special Offer: Book a meeting to be held by 31 August 2017 and enjoy a variety of enhancements based on total room nights contracted for the event.
20-49 Room Nights Contracted: 1 Enhancement
50-100 Room Nights Contracted: 2 Enhancements
101-250 Room Nights Contracted: 3 Enhancements
Enhancement Options:
• Triple points for meeting planners
• 5 VIP upgrades
• 20% attrition
• 10% off AV equipment
• 1 complimentary room per 30 rooms contracted
• 1 complimentary water taxi ticket per 15 rooms contracted




---
Personalized Service. Michelin-Star Cuisine. Customized Amenities. Centralized Location. The Taj Campton Place, a prominent San Francisco landmark built over a century ago, is located along Stockton Street at the prestigious Union Square just 20 minutes from the international airport. The hotel is adjacent to the financial district, premier art galleries, prominent museums and the city's best-known stores.

Exuding an ambiance of privacy and warmth, the Taj Campton Place allows guests to come home to the utmost personal service and quiet exclusivity – perfect for important business transactions.
Hotel Stats:
• 110 guestrooms
• 4 meeting rooms with 2,000 square feet of space
• Accommodates up to 120 ballroom, 72 classroom and 125 reception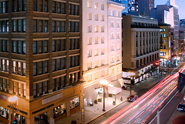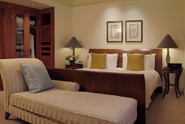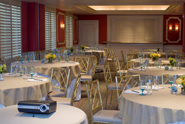 According to Kathleen McIntosh, GC Account Executive – CA, USA:
"The Taj Campton Place is an iconic, luxury boutique hotel centrally located in the heart of the city just steps away from cable car access to Nob Hill, Chinatown and many San Francisco attractions. The hotel has a popular Two-Star Michelin restaurant and a more casual bar and bistro, perfect for small get-togethers. Be sure to make reservations as many locals frequent the restaurant and bar. The guestrooms are spacious and well-appointed, the staff is very friendly and the hotel has a warm, charming atmosphere. This is an ideal hotel for small business meetings."


Special Offer: For every 10 room nights booked, receive one VIP upgrade to the Deluxe room category with a VIP welcome amenity as well as 50% off meeting room Wi-Fi. This offer is valid for meetings booked and consumed through 31 December 2017.


---
The Pierre, a Taj Hotel, located in New York overlooking Central Park, is the iconic U.S. flagship of Taj Hotels. With its distinctive design, superb location and outstanding service, this property is regarded as one of the world's finest luxury hotels. The Pierre offers outstanding personal service complemented by the charm and comfort of a European residence. The dedicated events team specializes in coordinating a variety of corporate events and creating uniquely impactful experiences for guests.
Hotel Stats:
• 189 guestrooms and suites
• 9 meeting rooms with 20,000 square feet of space
• Accommodates up to 800 banquet, 300 classroom and 1,500 reception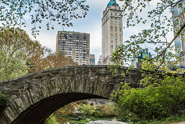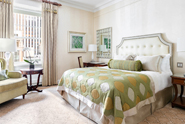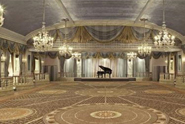 Pat Durocher, CEO & Founder of Global Cynergies, shares:
"The Pierre was built in the 1930s and remains a 'classic' style with some Indian influence. It is located directly across from Central Park and the subway station, so the location is easily accessible!"


Fun Fact: The Pierre's elevators have white-gloved attendants and the tango scene in "Scent of a Woman" was filmed in the Cotillion Room.


Special Offer: For every 10 or more rooms booked from 25 June to 30 August 2017, you will receive:
• 5% credit to the master account on guestrooms, banquet F&B
and room rentals
• Upgrade to a city view room for every 1 in 10 attendees


Also enjoy the following value adds:
• Spend $25K or more in guestroom and banquet revenue
and receive a gift certificate for dinner for two in Perrine
• Spend $50K or more in guestroom and banquet revenue
and receive a gift certificate for afternoon tea for four in Two E
• Spend $75K or more in guestroom and banquet revenue
and receive a gift certificate for a two night stay for future use


Interested in hosting your next meeting at any of these amazing properties? Contact your GC Account Executive or email us at info@globalcynergies.com to find out more!


Singapore offers two great programs to assist meetings and events coming into the country: the Business Events in Singapore (BEiS) program and the INSPIRE program. BEiS offers customized support with both financial and non-financial programs based on various qualification criteria. The INSPIRE program, best suited for smaller groups, offers various group discounts and complimentary offers. Contact your GC Account Executive or email us at
info@globalcynergies.com
to find out more about these great Singapore programs!

---
Enjoy genuine Asian hospitality at the Marina Mandarin Singapore, an award-winning, world-class, five-star luxury hotel offering breathtaking views of Marina Bay. Located in the heart of the central business district, this hotel has convenient access to the Suntec International Convention & Exhibition Centre. Enhanced with advanced AV equipment, Wi-Fi and a professional convention services team on hand to ensure attention to detail, the meeting space at the Marina Mandarin Singapore can host an array of meetings and events from large-scale forums to small private functions.



Hotel Stats:
• 575 guestrooms and suites
• 22 meeting rooms with 40,000 square feet of space
• Accommodates up to 600 banquet, 350 classroom and 700 reception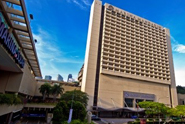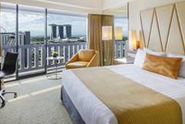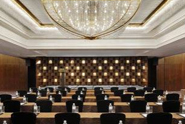 According to Kavita Raha, GC Account Executive – Singapore:
"The Marina Mandarin Singapore is located near the business district with a huge mall right underneath and the MRT connecting you to the rest of Singapore within minutes. The hotel has well-appointed rooms and restaurants. Their onsite Chinese restaurant, Peach Blossoms, is one of my favorite restaurants in the city."
Special Offer: For bookings of 50+ rooms per night, receive additional food & beverage add-ons plus complimentary upgrades for VIPs to a higher room category.


---
My Private Chef is a bespoke dining service that incorporates art, music and technology to create unforgettable experiences for brands as well as corporate and private clients. With a roster of world-class chefs, experienced service staff and unique venues in Singapore and overseas, My Private Chef conceptualizes, creates and delivers themed events that tell your story through fine food, creative event design and unique ambience.
They are an exclusive dining event organizer that provides complete creative and operational service to ensure you have a seamless and enjoyable occasion.
Some of their services include:
• Theme & concept development
• Chef sourcing & menu creation
• Design & decoration
• Before & after preparation
• Furniture, linens & tableware
• Floral arrangements
• Silver service staff
• AV hire
• Emcees & entertainment
• And more!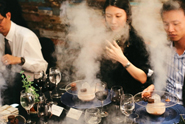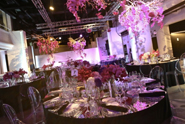 Contact your Global Cynergies Account Executive or email us at
info@globalcynergies.com for more information on planning your next event.

We saw a shift in demand to Amsterdam and various German destinations after the 2015/2016 terrorist attacks in Paris and Brussels. While demand for Belgium and France is climbing, demand for Amsterdam and Germany still remains high for our network; London and Amsterdam remain the most popular destinations for non-residential meetings.
Ireland, with an increase in airline service over the past 9 months, now offers 19 direct flights to/from North America, 23 to/from the UK, 118 to/from Europe and 5 to/from the Middle East/Africa. Meet in Ireland also offers a "MICE Supports" program which provides a full range of complimentary practical and financial support for those proposing to hold meetings with 50 or more international delegates in Ireland. Contact your GC Account Executive or email us at info@globalcynergies.com to learn more!



---
At the five-star Druids Glen Hotel & Golf Resort, nature and luxury meet to create a memorable setting for your next event. Nestled in 400 acres of countryside between the Wicklow Mountains and the Irish Sea, yet only forty minutes from Dublin Airport, this resort provides a range of versatile meeting spaces with complimentary Wi-Fi. Many of the meeting rooms enjoy natural daylight and wonderful views over the stunning parkland setting.

There are five acres of outdoor space ideal for team-building activities. Golf enthusiasts can follow in the footsteps of legends and play two unique courses in one stunning location. Experience the authentic Irish hospitality and allow them to take care of you while you soak up the wonderful surroundings. The superior business facilities and refreshing natural environment at Druids Glen makes doing business a pleasure and the property ideal for buy-outs.


Hotel Stats:

• 145 guestrooms and suites

• 8 meeting rooms with 7,000 square feet of space

• Accommodates up to 240 banquet, 160 classroom and 400 theatre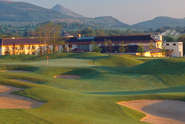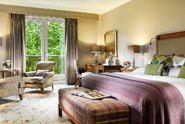 Fun Fact: Druids Glen Hotel is home to two championship golf courses: Druids Glen and Druids Heath. The Irish Open was hosted on the Druids Glen course for more than 4 years.


Special Offer: Receive a reduced day delegate package from €59 per person including two coffee breaks, soup & sandwich lunch and a meeting room with Wi-Fi, a projector, screen, iced water, mints and stationary – based on a minimum of 20 people per day. For every 20 day delegate packages booked, one will be complimentary (minimum requirement of 30 delegates per day). Available for September, October and November meetings and events booked before the end of July 2017.

---
The Hyatt Place Amsterdam Airport is a hotel designed around you! They combine style, innovation and 24/7 convenience to create a perfectly seamless experience with every modern comfort you deserve. Business meets pleasure at this four star hotel located just minutes away from Schiphol Airport and the business districts of Hoofddorp and Amsterdam, including Amsterdam RAI.

Bring people together for meetings and events in new and innovative ways at the Hyatt Place Amsterdam where you'll find outstanding facilities and services, including free Wi-Fi throughout the hotel and all the audio-visual equipment you need.


Hotel Stats:

• 330 guestrooms

• 5 meeting rooms with 4,000 square feet of space

• Accommodates up to 110 banquet, 64 classroom and 160 theatre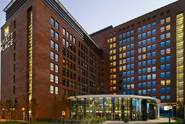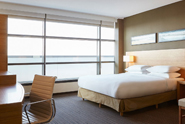 Fun Fact: The first Monday of every month, the Hyatt Place Amsterdam Airport hosts a networking cocktail event called Monday Mingle. Clients, as well as guests staying overnight, can meet each other in person in an informal setting accompanied by DJ Raphaella spinning some loungy tunes – plus the first drink is on the hotel.


Special Offer: For new meetings booked and held from 01 June to 31 August 2017, receive the following:
• 15% discount on DDR package
• Free upgrade for the contact person of the group (upon availability)
• Additional refreshment with some summer sunshine

---
Mövenpick Hotel Amsterdam City Centre offers a unique location right at the river IJ and close to the historic center. This modern four star hotel is easily reached from the highway, only 20 minutes from Schiphol Airport and is within walking distance of Central Station. The guestrooms are clean and spacious with luxurious amenities and stunning views over the city or harbor. All meeting rooms have natural daylight and are equipped with the latest technical equipment to make your meeting run smoothly.
Mövenpick Hotel Amsterdam City Centre is part of ijVENUES which consists of four venues: Muziekgebouw aan het IJ (concert hall), BIMhuis (Jazzclub), Passenger Terminal Amsterdam (Cruise Terminal) and the Mövenpick Hotel. The combined venue space gives Mövenpick Hotel Amsterdam the opportunity to accommodate larger conferences and events. ijVENUES is easily accessible by car, boat or bus and the location offers an onsite parking garage with 550 spaces and 25 bus spaces – great for group transfers.


Hotel Stats:
• 408 guestrooms
• 25 meeting rooms with 50,000 square feet of space
• Accommodates up to 1,000 banquet, 500 classroom and 2,000 reception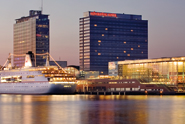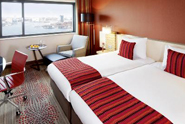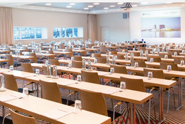 According to Anna-Larisa Snijders, GC Account Executive – The Netherlands:
"The Mövenpick Amsterdam is in a good location just one tram stop or a three minute taxi ride from Central Station. They have great views over the city and IJ canal. The meeting space is located on the first floor which feels quite private; it is well maintained and has a functional layout. There is also an indoor corridor to the Passenger Terminal which can be used as a huge special event venue (depending on the season); it has 3 decks of open space with high ceilings and spectacular views over the IJ canal. This property is great for large conferences of 250+ people who like modern, four star, city hotels."

Fun Fact: ijVENUES is the only venue where you can dock a large ship.


Special Offer: Book your meeting or event at the Mövenpick Amsterdam and pick your own promo.
Choose from the following:
• 50% discount on breakout room rental
• 2% rebate on fast signing contracts
• 10% discount on DDR
• 20 complimentary upgraded rooms for groups above 150 room nights
• Room rates from EUR 129
This offer is valid July, August, November and December of 2017.


Interested in hosting your next meeting at any of these amazing properties? Contact your GC Account Executive or email us at info@globalcynergies.com to find out more!