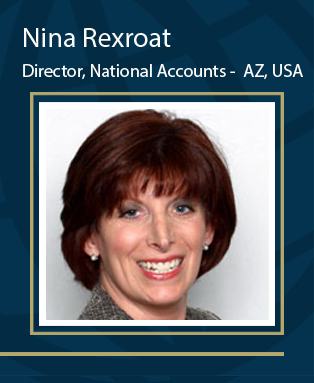 TEAM MEMBER SPOTLIGHT
---
ASKED & ANSWEREDHow did you build your clientele and what makes the relationship work for them?
We are lucky that we are providing such a useful service. Many of my clients are referrals from other clients, which I am really proud of. I try to gauge each of my clients' needs, all of which are different. Some clients want frequent updates while others prefer to see just the final negotiations before making a decision. I try to make it work for them.
How did the phrase "The Year of the Nina" come about? It actually started out as a silly joke with a colleague back in 2015 about the Chinese New Year. It was the year of the goat which was supposed to be a good year for me, so I said maybe it could be "The Year of the Nina" too. It just so happened that my business really took off that year.
What do you like to do in your free time? I am a single mom with a busy teenager so that takes a lot of my time! I also enjoy yoga, walking my dog Stella, spending time with friends, going to the movies and of course, traveling.
Where was your favorite place to live and why? Of the 12 cities I've lived in, I would say my two favorites were Chicago and Toronto. I really like city living and all it has to offer. Being able to make a decision at the last minute to go to a museum, festival or an interesting restaurant is a lot of fun. I also like the diversity and energy of big cities.
SPECIAL INTEREST
---
Your goal is to move to Europe within the next 12 months; why Europe? Any country in particular?
It has always been a dream of mine to live in Europe. Now that I have a business that is portable, it seems like a good time to try. I hope to end up in Prague. I love that the city has survived so much and still thrives; it's like each building, bridge and street has its own story to tell. I have been there four times and I love sitting in the Old Town Square watching people visiting for the first time. I can see the same awe on their faces that I felt on my first visit. The people also remind me of Midwesterners, which makes me feel at home.

TESTIMONIAL:
Coming to work for Global Cynergies has, without a doubt, been the best professional decision I have ever made. I just passed my 5-year anniversary and every day I still look forward to coming to work just as much as I did on my first day. I can absolutely see myself doing this for many years to come, from wherever I am."