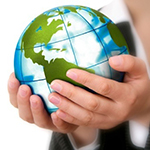 This year we stepped up our game in looking for industry professionals to join our growing team. I would like to share a few points from the connections and conversations I've had with people from all over the world that are good reminders that our model, values and culture are even more relevant in today's world.
It's a digital marketplace! The use of social media and other platforms are important tools to connect with our clients.
Telecommuting is acceptable in today's global marketplace. Quality of life plays a factor; no long commutes to the office, I know I prefer to walk down the hall!
Information is NOT the be-all end-all; actual experiences ARE. Many of us have been misled by a review or "information" obtained from the internet. Trust the source.
The old order of "big company" security is a thing of the past; people are looking for opportunities to set their own course and be rewarded for their efforts.
Commission based opportunities are expanding into other commercial avenues with acceptance – financial services as an example in Europe!
Trailing Spouses – I love this one; the mobility of the workforce. New jobs/locations for one spouse, new flexible opportunities for the other.
Career choice – Looking for an opportunity to invest in themselves for the future!
Being part of an organization that has values – I hear this all the time. Transparency, honesty, and respect are sometimes difficult to find in the corporate marketplace but here at GC we strive to live by them every day.
Meeting needs – in this climate of social awareness and responsibility, giving back to the communities in which we live and work, play a vital part in the satisfaction of what we do.
English may be a second language to many; but the message is loud and clear. While freedom and flexibility are driving factors for many; being part of a company that is global, diverse, transparent, honest, has integrity, meets needs in communities and provides an unbeatable value proposition to its clients, team members and suppliers, is indeed relevant in today's changing marketplace!